Follow these steps for selecting a power bank
Mobile phone charging has always been something I forget about when I am going out on a trip. It shouldn't be the last we consider, now that we carry our phones everywhere we go. There are times I have difficulty putting my phone down, I am sure you have had similar experiences. Our steps to ensure your phone is ready when you are and always charged so you won't miss that perfect photo or that text message from your best friend.
Charging on a budget is always something I consider. To find the right charger please note that the term power bank is a term used when we are charging our phones. Power charging is focused on using a generator to charge home, camper, or refers to generators.
Tip 1. Where can I get one for free or at a discount power bank?
Trade Shows or Street Fairs – Do you know someone who is going to a trade fair, most of the big conventions have companies giving away items. Power banks is one of the most popular promotion that is being given out since everyone has a need for one. It is usually a small one but it works just great as long as you don't care if it has UC San Diego or Lumbar Liquidators on the side.
Ebay
The big auction site is great for finding items that can be reused by others, power banks is one of those items. They can be used 500 times. I did a search for Portable Power Bank a few came up under 19.99.
Could a smaller one for $6.99 work? I found one on EBay that is 2600mah, power bank that is 2600mah should last you approx 2 years or up to 500 cycles of charging.
This works if you are good with purchasing one that is used.
Tip 2: How do you charge your phone in your car?
This may seem straightforward but you need to make sure that your car is capable. Modern vehicles either have a USB plug or an adapter that plugs into what used to be called the power charger that exists in our cars. I'm a fan of Anker products they have really helped me when I was in a pinch to ensure my phone was working at the optimal level, I am going to highlight a few of their products that work well.

The Anker Car Charger is the power adapter for cars that may not have a USB port built-in. In my car, I put one of these the charging of my phone is faster with this than with the built-in USB. That was something I was surprised about but the amount of wattage coming out was more so it gave me a faster charge.
https://www.amazon.com/dp/B08JX444KV/ref=cm_sw_r_tw_dp_MMQFA0QZXBXWPSJWSN5W?_encoding=UTF8&psc=1
Tip 3: Charging your cell phone on the go with a portable bank.
What about if you're out and about or you're on a train and your battery starts getting low?
You need to have a power bank aka portable charger, this allows you to charge your phone anywhere. I use mine when my phone is somewhere below 50% on the battery. Today's iPhones or Android phones happen all the time they don't hold a charge even the new ones. I'm going to link to the two battery chargers that I find work the best they'll light and also will charge your phone easily.
When I was choosing a power bank I had to evaluate what was my specifications, I am considering. My focus for these is how much does weighs, reliability, and is easy to put in my backpack. There are larger ones that can charge your phone multiple times in a day but they're heavy and bulky.
I chose this Anker power bank because I have had success with Anker products they are always reliable and the company is very responsive if I had an issue. Many years ago I had a USB charger that went bad after a week of use. Anker immediately replaced it and apologized for the inconvenience. This is the type of company I prefer when making a purchase.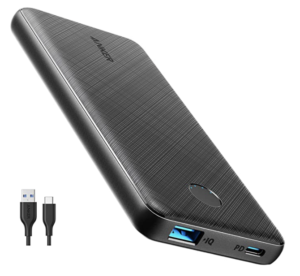 Portable choice: Anker 10000m https://www.amazon.com/Anker-Portable-10000mAh-Delivery-PowerCore-dp-B08LH26PFT/dp/B08LH26PFT/ref=dp_ob_title_wld