Train travel is an easy way to get around Europe, with some real benefits for United States travel. As someone who has traveled extensively by train, there are some tips you need to consider for any trip.
Before we go over the tips there are planning questions we need to consider:
Are you going on a short trip, long trip, this simple question will focus your planning?
What kind of trip are you looking for one around a city or would you prefer to bounce between various destinations?
These two questions will help you focus your planning for hotels, motels, Airbnb, VRBO, and hostels.
I remember taking a trip outside Rome that I was taking on Rome Lido rail which allowed for limited luggage racks but it was very convenient because there are multiple stops that allow you to explore multiple areas, even ones that are let outright by the coliseum.
Tip 1: Destination One or Many?
Knowing if you are going to stay within a destination or you are going on an adventure, where there is access to multiple areas of the city may be more desirable. This decision allows you to plan the area, city, or type of exploration you will be done by train. In Florence, we wanted to explore the city from an easy to access home base so we found a place right off the train which allowed us to visit numerous places all within walking distance. Florence is a very walkable city. London on the other hand is large and spread out of many miles. We knew we couldn't see the whole city on foot so we decided to stay on the outskirts. We decided to stay off the main lines of the London Underground, it was important for us to have a commuter rail a block or two away since I wanted to bounce around to all different parts of the city.
Tip 2: Packing Heavy or Light?
Packing is something to consider, usually, it's easier to pack lighter for a train trip. Larger bags can be used on longer trips such as on Amtrak and High-speed rail, they have space to store your luggage. It's getting it on and off the train can be an issue if your bag or bags are heavy. The other issue is unless you know the station there are times when you have to drag your bag a very long way to get to the platform. On that trip to London I had to visit a friend near Scotland, just walking through the Westminster train station surprised me on how big the station was. I walked through the concessions, main area, and then the ticket gate. But when I asked the nice conductor where the train was, he said on you are on track 23. It's back behind 3 or something, I had to walk one whole platform to get to the platform in the back. I was glad I had a small carry-on with me on that trip. See our list of the 3 best carry-on bags we have used.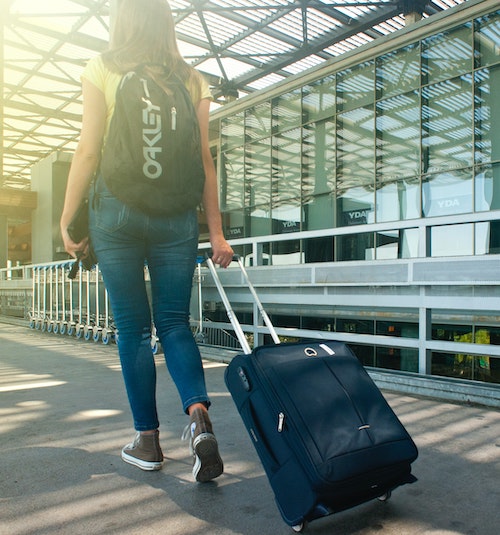 Tip 3: Tickets
Buying tickets in advance before boarding a train is the best tip. I was stuck once on a platform in NYC having to go from the commuter rail to the subway. I walked down the platform and there was nowhere to purchase a ticket. I was in shock where was the machine or even a person, when you get to this place you are frustrated. I can tell you I was on that day. I quickly asked another passenger who was walking to the turnstiles where there was a place to purchase a ticket. They said it's up on street level, walk up over there it's 3 floors up, then go to the entrance to the station you will find the ticket machine. Let me tell you that was a long walk that took me 30 minutes just to get a ticket. I said to myself at that moment, I am going to prepare and not have to go through this again. I learned to do some prior planning and find out how to purchase a ticket before I leave for the trip. I learned that in New York they use Metro Cards, Washington DC they use SmarTrip a tap system and in Boston, they use T with fares/tickets off their website. This knowledge definitely helped on our next visit.
Train travel is fun and dynamic but planning is important. Check out the next article on the types of train travel and why this helps your planning.