Backpacks that make life easier when you are juggling on your trip
The pandemic is starting to end a-lot of people are looking to get out and travel. Traveling has so many health benefits that revolve around having less stress, more energy while at the jobs and quality time with your family. The best memories we have are sometimes on a trip when an unexpected occurance happens.
Benefit of traveling light.
Plane delays happen we have experienced over 20 years and we found that traveling with checked luggage always limits our options if we need to catch another flight. We were flying into Chicago Mid-way airport while in the air the pilot told us that the airport is closing and no outbound flights were taking off due to a snowstorm. We were able to land but after getting to the counter to talk with the agent on duty, we could not proceed to our destination of Las Vegas. The next flight they could find for us to Las Vegas was 4 days from now. We were disappointed since the trip was only a week so we wouldn't be in the town very long. Luckily we started to ask where they could fly us to, we were able to get a fllight the next day into Phoenix, AZ, we changed plans and enjoyed the new trip.
We were only able to do this because we travelled with Carry-on luggage only. This is something to consider and why I am recommending these carry on backpacks for your travels.
These three Carry on Backpacks that I find to be reliable and worth investing in. (note: some links are affilate links and we gain a small commission from the company if you purchase any of them)
Choosing a carry on backpack
Purchasing a backpack can be a very personal experience, I find there are few qualities that I always look for that make it easy to keep you exploring.
Backpack should have multiple sections
A dedicated laptop section
A TSA pocket
A pouch to your water bottle
Comfortable to put over your shoulders.
What is a TSA pocket?
This is my nickname for the pocket on top of the bag that is the size of a zip lock sandwich bag. This pocket has to be big enough to hold my phone, keys, wallet and associated items before you go through airport TSA security. Bags without the TSA pouch is useless.
Osprey backpack Nebula
The osprey backpack, Nebula has become one of my go to back for all our trips. This big as a carry-on allows me the flexibility to pack a lot of stuff and have the compartments I need to carry a variety of items easily. It has a large back area that I'm easily able to stick my laptop or my iPad depending on the type of trip. There's a second compartment which is the main open compartment, that I store my packing cubes. This compartment can easily hold three or four packing cubes which is enough for me to do a two week trip with just my backpack. In another post I'll talk about how I pack.

The TSA Pocket is on top of this bag right in front of the second compartment where I keep clothes. This pouch is where I end up throwing everything that is needed for quick access. This is really necessary compartment for my cell phone for my keys and everything else you need to throw in. I have had to many times where I go through security and then need a second check because they founds something in a pocket.

A nice feature is this backpack stands straight up almost all the time. This helps when you need to put down the bag by my feet, I never have to worry about it leaning over or sitting on the side. It's not designed to do that there are some that have actual structures in the bag to keep it upright this one I found just does it automatically because of the way he tries to keep the shape of the backpack more vertical than allowing you to expand with multiple pockets to vote to be a very wide backpack.
Best place to purchase this:
Osprey Nebula Men's Laptop Backpack, Sentinel Grey
LL Bean Super backpack
LLBean has numerous quality backpacks that are all designed for school kids and adults. They are strong and durable, we have used them all around the world. We haven't had any of the straps break. This LL Bean bag is a perfect carry on backpack. We continue to use this one, even though it shows wear it works well. All the zippers are in excellent condition even after 8 years of use. I don't replace backpacks regularly, I keep them a long time so when I am researching the choices I spend a lot of time reading real reviews.

We like the Super Deluxe Book backpack. This pack has a great front pouch that has a pocket to put toiletries and medicine. This carry on backpack has a three pocket system. The large back area that is closes to your back is perfect for those large books, laptops or notebooks. I have seen my son use it for his clothes. I always found the clothes fit better in the middle pocket, which is the larges pocket in the backpack. This compartment can hold at least 5 packing cubes. By putting the clothes in the middle pouch the front pocket to hold toys and games.
Downsides and good for kids.
This is the perfect pack for my son since he wants to bring games with him and this pocket allows him to have is Nintendo switch with games in the bag.

No matter how you pack it this pack almost always turns into a oval. Which is good since it can fit in all kinds of different spaces but doesn't ever stand up correctly. Whenever we put this down it leans to one of the sides of the pack, which is a downside of this backpack.

The top of the backpack has the TSA pocket which we use for security as well as a handle that helps when you need to lift like a piece of luggage. The backpack handles are durable and easily adjustable to fit any back. This is a larger bag so you need to consider weight since it can hold so much you may load it with too many items. No matter what your preference this is a good solid pack that you can use as a carry on luggage for your next trip.
LLBean has a larger selection of packs.
3. Eagle Creek Sling backpack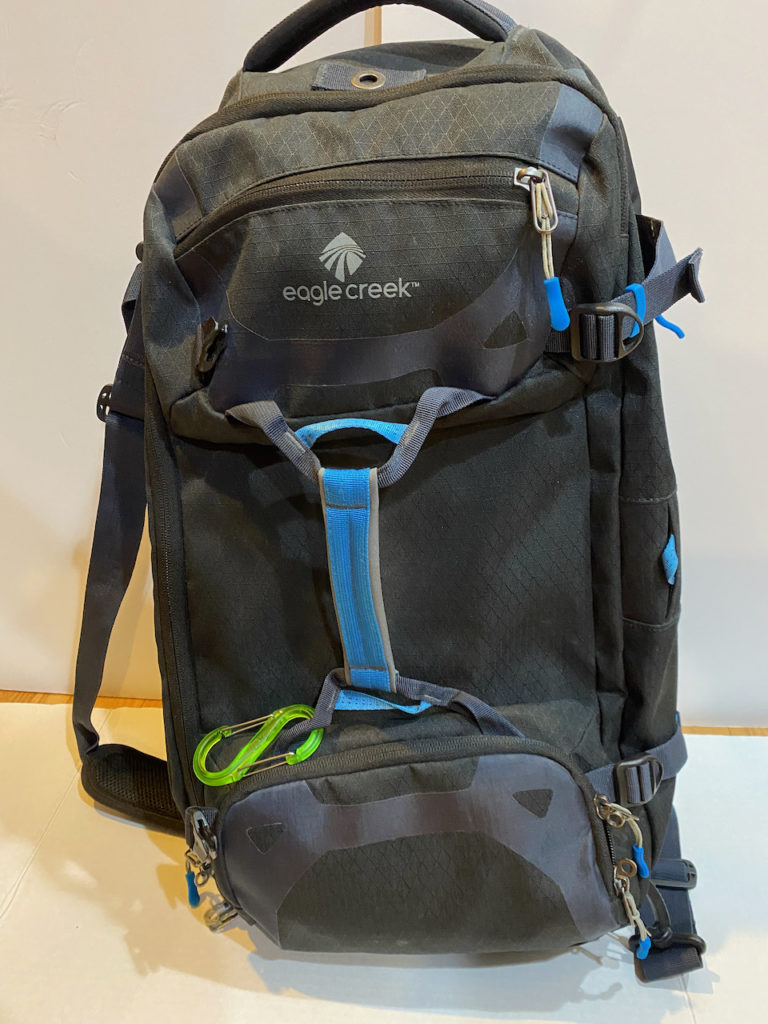 The EagleCreek carry on backpack we purchased because we were required for our African safari to only have one bag that was not hard luggage. This was a three week trip stopping at multiple destination after the safari so we needed something versatile and durable.
The sling backpack is a messenger bag and backpack. The straps for the backpack have their own hidden pouch on the bottom of the backpack that allow you to hide away either strap depending if you are using it as a backpack or a messenger bag. The ability of wearing this as a cross body bag is so helpful. We used this bag in Europe on the trains, its so difficult when you are wearing a backpack on a crowded train. We switched it to the messenger style which took up less space. This flexibility is a great feature of this backpack.
This bag has the TSA pouch at the top where you can put your phone, keys and wallet for security. The bag has a lower pouch on the bottom front that is good for a game system for your kids. The bag is designed with one main compartment that is open to put all your clothes, gear and shoes. This is useful for keeping everything together, because it allows easy access to your items quickly. It reminds me of a duffel bag but more manageable.
Eagle Creek Load Hauler Expandable Luggage, One Size, Smokey Blue
Downsides of the Eagle Creek bag
The downsides of this bag is that its missing a place for my laptop. I had to sweeze it in the main compartment which made the laptop move around a lot. This was not the ideal solution for anyone who is traveling with technology. In addition, when its used as a backpack it never stands up, I find you always have to bend over to find the top of the backpack.
Foldable carry on backpacks
Note. I avoid foldable or rollable backpacks. These are advertised a lot because they're really easy to fit into a bag and backpack when you're walking around. I've tried multiple ones they always seem to break some time during the trip. I wouldn't recommend them if you need a small day backpack. I find reusable bags from a grocery store work really well. They allow you to put items together and cost very little.
Please don't overstuffed those bags. I know travelers don't want to use reusable bags now but sometimes you have to balance function of a durability. It's a tough choice when you just need to be able to put the items you purchased in a bag.
As a budget traveler I like durable and inexpensive.