Epcot 50th anniversary and Food/Wine Festival
Epcot is a fun time out with the whole family at Walt Disney World. This park is geared toward teenagers and adults rather than younger kids. This is a nice selling point for anyone who would like a day out at Walt Disney World where you can experience the world showcase and attractions the Imagineers have dreamed up.
Tips I learned while visiting Walt Disney World
Go at your pace through the park.  I found by taking my time I couldn't visit all the sections but world showcase was my objective.  I did that but it took 6 hours. 
Don't just buy everything that is for sale from the food vendors.  I am operating on a budget and we stayed within that for the family.    We wanted to sample the different cuisines but didn't go crazy.  We stayed within budget by sharing each dish with the kids and adults. 
Let each person chose one dish that they really wanted. This allowed each person to feel special and it allowed everyone in our family to enjoy the food.
Have a meal big meal before you enter the park.  This saved us since we all had full stomachs which helped us to not go crazy tasting the cuisines.
Know your limits, this is a massive park. We couldn't do it all, as soon as one of our family was tired we all took a break.  This helped us be considerate and caring about each other.
Why you shouldn't miss Epcot and the Food/Wine Festival.
The Food and Wine Festival at Disney is a month-long event that is happening each year where you can taste the food and flavors of that country. It's not meant to replace a meal but let you experience the what this part of the world. This festival embodies what the World Showcase at Disney World Epcot is all about its the experience of that place without ever leaving the United States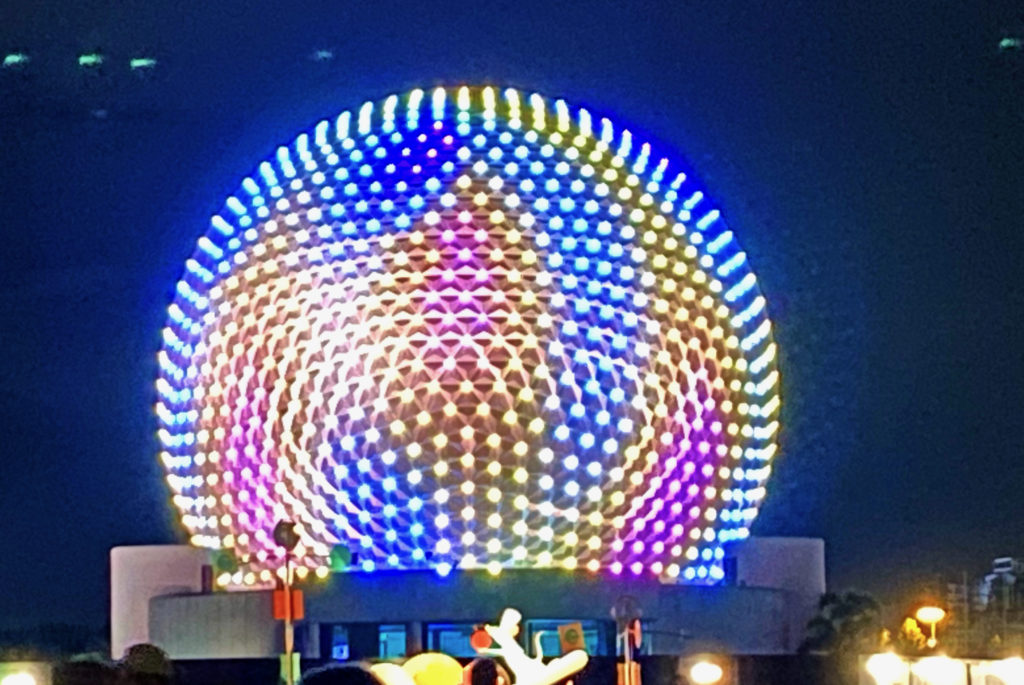 Disney World 50 year anniversary
The 50th year anniversary celebration started in October 2021 for Walt Disney World, they are celebrating all over the world with gold flags and statues. I like how they have characters in gold on the entry cards as well as spread out around the park. Disney World was open on October 1, 1971, with the first park Magic Kingdom and the Contemporary resort.
My grandparents who didn't like to fly on an airplane went on a trip to Magic Kingdom to see the wonder and beauty after it opened. I remember being told how they thought it was like no other place on earth. They were so happy to spend time walking Magic Kingdom the only park open in 1971. The only hotels that were ready at the opening was Polonesian and Contemporary. This saying "no other place like it on earth" continues today about the whole magical world.
A few booths at the Epcot Food and Wine Festival
When you arrive at the lake all around are booths set up for you to experience the tastes of Food and Wine as well as you visiting each of the 10 countries that are around the world. Canada, United Kingdom, France, Morocco, Japan, Germany, America, China, Norway, and Mexico.

Brazil – Is at the entrance to the World Showcase. We started our walk with a taste of Moqueca: Brazilian Seafood stew over Steamed rice which was divine.

Noodle Exchange – A new booth in the Food/Wine Festival was our 2nd stop. We ordered the Shrimp and Coconut Curry Rice Noodles (gluten/wheat free). The taste of the food was authentic, coconut mixed in made for smiles all around.

Apple Orchard – O'Canada Theatre had bar with a variety of Apple and hard ciders. The lobby to the theatre was set up with barrels for tables and chairs which made you feel like you were sitting in an orchard inside Air Conditioning. I would recommend the Cinnamon Apple Cider (non-alcoholic) was a wonderful taste that was sweet and savory.
Near the Refreshment Port by Canada they were serving Braised Beef Poutine which was worth the calories.
Germany – One of many more as we walked. The Apple Strudel with Vanilla Sauce was a perfect balance of apples, crust, and sauce. This reminded me of homemade even though we were in Disney World.

Sampling of these foods plus many others definitely changed the experience of Disney Epcot. This was a perfect day for you and the family would enjoy.
Find out more at the Walt Disney Anniversary pages.