A self walking tour around Saratoga Springs
Saratoga Springs New York is a tale known for the races from Belmont to come up here during the summer months. It's a great place to go, see the races, and have many opportunities to stretch your legs for a walk. I was surprised by how much this quaint little town offered.
All of these walks are for any age level, I am no hiker just like to walk on even pavement as I explore the world.
Walk 1: Downtown Saratoga. Approx. 2 hours to walk the area
Saratoga Springs downtown area is completely walkable. Multiple hotels that are convenient along the center and outskirts that allow you to leave your car in the parking lot.
Stores are abound Eddie Bauer, Tea and honey, Chico's, Outdoor world, cute shops and lots of restaurants with outdoor seating. I spent some time in the Tea ans Honey store. The staff was attentive and informative, as a tea drinker I knew a number of the varieties but didn't know about honey. They had me taste a variety of them, all are delicious.
A great walk through this area will definitely keep you moving and excited for what else is abound.
Its like your very own guided walking tour of downtown.
Walk 2: Stroll through Congress Park, approx. 1 hour
On the outskirts of town there is this cute little park called Congress Park, with the Saratoga Springs History Museum. This park has a Duck Pond that has a variety of species. A number of walking paths and fountains. The benches all around made for perfect spots to just sit and read a book. The feature image is from one of those spots I was in awe of when I was there.
The walking trails are paved which I find ideal.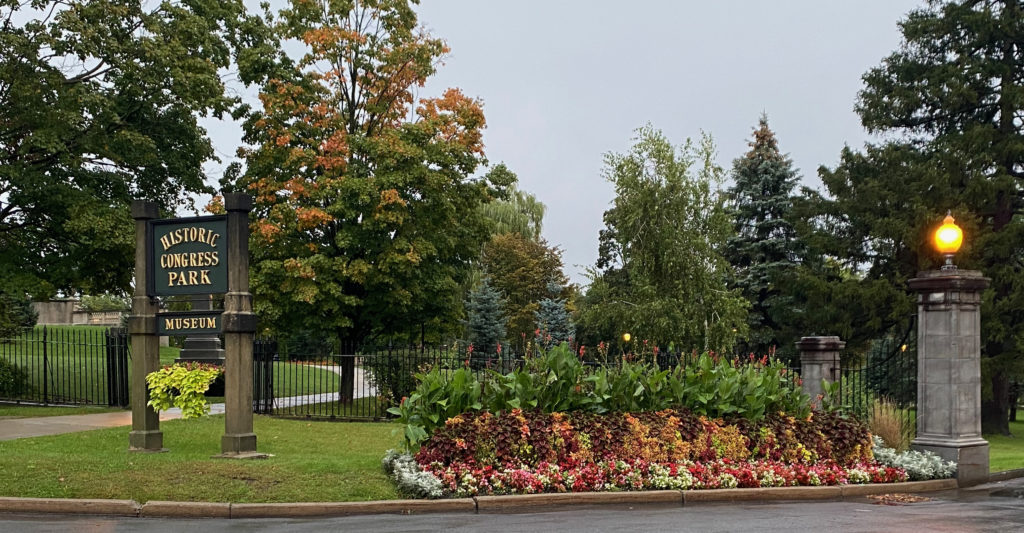 Walk 3: Saratoga Spa State Park, approx. 4-6 hours
Saratoga Spa State Park is a massive state park right outside of Saratoga Springs, NY. You could spend a day just here exploring.
There is an Auto Museum, an 18 hole and 9 hole golf course, the Gideon Putnam hotel and spa, Opera and Banquet hall.
Walking here their are lots of options, a long 5 mile trail that goes around the whole property that takes you through the woods, lawns and around the golf course.
There are two smaller loops that go along the roadways and pass by numerous buildings.
The area is comfortable and allows you to be in nature without the rough paths.
All the walking paths are paved and allow for easy access. A number of bicycles are around but they yield to the walkers.
There is a number of trail maps that can be found on the NY State Park site. https://parks.ny.gov/parks/saratogaspa
Worth a visit if you are looking to walk in Saratoga.
Photos of Saratoga Springs
I'm very impressed with Saratoga since there's a bench every 5 to 10 feet in the downtown area, in Congress Park and in the Spa. It allows for all ages to enjoy the beautiful scenery all around the capital region of New York. That opportunity to take a break had such an appeal that I found my trip here so worthwhile and wanting to return.

If you're looking for a quick getaway this is the perfect place up in the capital region of New York State.