Have you spent hours looking into headphones? To find the best for the budget traveler in us all, I did. Headphones are a personal choice, and there are numerous preferences to choose which headphones are suitable for you in today's world. Everyone needs good headphones, but how do we judge what works for us. I have spent countless hours looking for the right headphone and have spent way too much money finding one that would work for me. I have decided that the Beats Studio headphones work the best for me, with the runner-up being the Airpod Pros. Why did I choose these, and how did I come up with this? It was a lot of testing.
Here is the critiera I used for selecting the headphones.
Battery life
Noise Cancelling
Bluetooth Compatibility.
Comfort
Convenient
Based on these criteria. I was able to determine the best headphones that work with my devices. I am an Apple person, owning an iPhone and a Macbook. This weighs heavily upon my decision since I wanted something that was completely compatible. Consider these different models as a guide. For Apple, users stay with the one's compatible. If you are a Windows or Android user, select the SONY WHCH-700; they are great for the price.
This site participates in the Amazon Services LLC Associates Program, an affiliate advertising program. Links earn these site advertising fees.
SONY WHCH-700 noise-cancelling headphones
Price – Amazon
| | |
| --- | --- |
| Overall Rating: 7 | They are conformable & reliable with an attractive price point. They are durable and always work, but I couldn't figure out where to put them in my carry-on. Noise Cancelling didn't block out everything but was acceptable. |
| Battery Life: | Awesome |
| Noise Cancelling | I could hear the loud plane engines, which I preferred to block out. I had to turn the sound up on my movie, but I was concerned about distributing my fellow passengers. |
| Compatibility | They lost the pairing with Bluetooth, which concerned me since it happened regularly. This reconnection is more of an inconvenience, but I was worried when it occurred every fourth time. They weren't compatible with my Macbook. The headphones sound had to be changed on the device, not through the computer. This is a bug that Sony headphones have with the Bluetooth on the Mac platform. It is unfortunate; these were good headphones. |
| Comfort: | They are easy to wear and comfortable. |
| Convenient | These were bulky compared to any earbuds but folded up nicely to fit in a canvas bag. |
Anker Soundcore Life Q20
Price – Amazon
| | |
| --- | --- |
| Overall Rating: 2 | These were the headphones with so many positive reviews on Amazon that I had to try. The price was around $120, with Noise Cancelling at that price was almost unbelievable. It was unbelievable and didn't work as directed. I spoke with support; a replacement set still fell flat. I am disappointed with these headphones and can't recommend them to anyone. |
| Battery Life: | Very Good. They lasted through the day, but I had to recharge around the early afternoon to ensure I didn't have any drops during my later meetings. |
| Noise Cancelling | This is the area I expected would be sensational. Unfortunately, they have a low humming sound when in use, and I disabled the Noise Canceling, the humming went away. I contacted support, and they sent me another, but it occurred with the new headphones. After many hours of research and talking to support, I finally found out this happens on these headphones with specific devices. They were very vague on which devices, but the Macbook is one of them. No one would admit it, but they implied it. |
| | I stopped using these immediately. Without the humming in the speakers, they are decent headphones and comfortable. |
| | |
| | |
Beats Studio Pro 300 headphones
Price – Amazon
| | |
| --- | --- |
| Overall Rating: 9 | These headphones are exceptional. They meet all my needs, but they cost me over $200. A considerable high price for headphones, but it's worth it. One fault with these is that they don't have a lightning connector, and they use Micro USB, which means I need an alternative cable. The sound and feel will make you wonder why you didn't purchase these initially. |
| Battery life: | Great. These headphones seem to last for at least 25 hours on a charge. I used them on a long trip and didn't need to recharge them for days. I was glad since I forgot the charging cable. |
| Noise Cancelling: | They block out the whole room. I was working in my living room, and my son watched TV. I could barely hear anything going on. |
| Bluetooth Compatibility: | Perfect. They immediately connected to my laptop or iPhone when it was near either device. Connectivity is not a worry anymore. |
| Comfort: | Over the ear works well. They fit around my glasses and don't weigh down my head. The pads seem durable and easy to clean. |
| Convenient: | They are bulky headphones, which is expected, but they fold into the Beats provided carrying case. The carrying case has a carabiner that solved my problem of storing headphones. They easily attached to the side of my bag, which gave me more space. |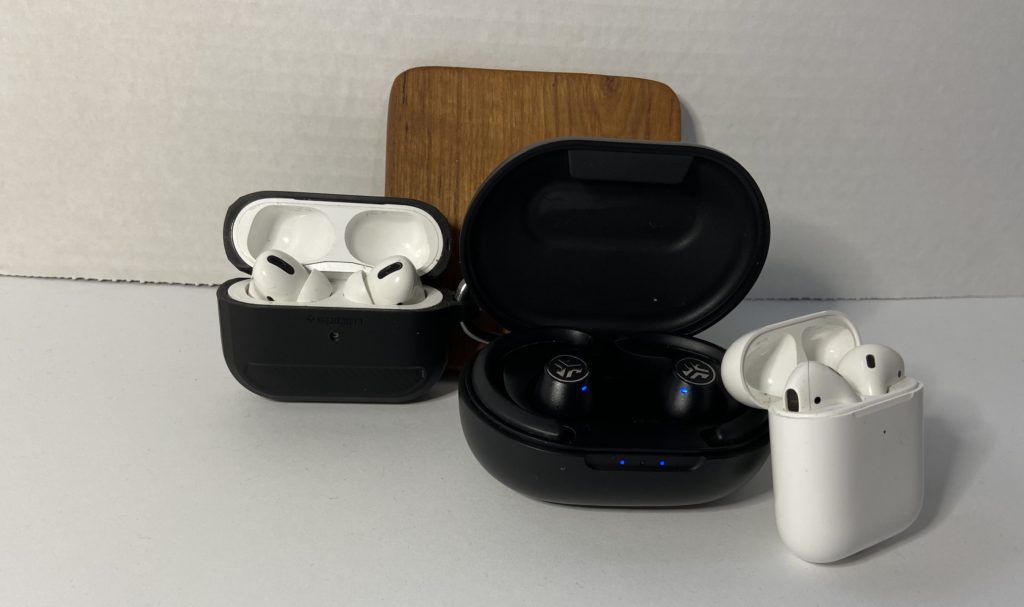 Wired Apple Earbuds
Price – Amazon
| | |
| --- | --- |
| Overall Rating: 5 | These are the earbuds that come with everyone's Apple phones. They are standard white and provide a good sound quality to anyone who wants to use them for work. |
| Battery life: | They don't need a battery, just a speaker jack. Speaker jacks are being eliminated from devices which presents a problem. My colleague had to purchase an adapter to use with his phone. |
| Noise Cancelling: | N/A |
| Bluetooth Compatibility: | N/A |
| Comfort: | They are ok for an hour. The wire gets in the way if you move or turn your head. When I grab a piece of paper from your desk, the headphone wire has snapped on me. This wire is always in the wrong place when you are in a meeting. |
| Convenient: | As with all earbuds, they can fit in your pocket, but un-tangling the wire is impossible. I have tried to put the headphones back in the case as they were delivered. It has never worked. |
JLab – Jbuds AirSport
Price – Amazon
| | |
| --- | --- |
| Overall Rating: 6 | These are great sports earbuds since they circle the ear and never fall out. Noise-canceling is a plus, but the battery life only lasts a few hours, which didn't work for my trips. |
| Battery life: | 4 hours at most. They constantly need to be charged. |
| Noise Cancelling: | They have some excellent ability to block out sound, and I felt it's not enough in a loud environment. |
| Bluetooth Compatibility: | They lose connection to the Bluetooth device. Every few days, I needed to re-pair the Bluetooth connection. . For inexpensive earbuds, I understood but expected better. |
| Comfort: | They feel alright, but I wouldn't want to wear them for long plane rides. |
| Convenient: | All earbuds are small. These are large three in half inches wide. They don't fit in your pocket with a set of keys. |
Apple Airpods – Headphones
Price – Amazon
| | |
| --- | --- |
| Overall Rating: 7 | In my first experience with Apple Airpods, all college students used and loved them. I gave them a try. They fit great but entirely fall out of my hands when I take them out of the case. I can see why people lose these constantly. |
| Battery life: | 6-8 hours. They last throughout my day. |
| Noise Cancelling: | N/A |
| Bluetooth Compatibility: | The earbuds automatically connect to my phone or laptop. On first use, the phone noticed the Airpods then connected them. The simplicity is worth the extra cost. |
| Comfort: | The Airpods have a stem that hangs down the ear. This keeps them in place, and they don't fall out. They are designed for wearing many hours in a row. |
| Convenient: | They are small; they fit in my pocket easily. You won't even know notice they are in your pocket.  |
Apple Airpods Pro – Earbuds
Price – Amazon
| | |
| --- | --- |
| Overall Rating: 8 | These are everything you would desire in Apple earbuds. These Airpod Pro offer the ability to carry them around and integrate Noise-canceling to allow you to work anywhere. . My issue was the tips. My ears didn't seem always to get the perfect seal. Without a good seal, they would fall out. I purchased other silicon tips or Foam Master Tips, but nothing seemed to work. I still use them, but I have to be careful not to lose one.    |
| Battery life: | Airpods Pro has a battery life of approx. Ten hours with regular charging. Using for work two days in a row is possible, but I have one in the case charging to ensure they would last. The case recharges the earbuds with a lightning connection. This helps to keep them ready whenever they are needed. Sometimes a quick 10-minute charge will restore them to capacity.  |
| Noise Cancelling: | They block out everything as good as the Beats Studio. Apple and AirPods are so integrated within the software on the phone or laptop you can change settings. One of these settings is transparency mode, in which you can hear everything around you as well as the work meeting. This is very useful if you are talking on the phone and walking. You can listen to any approaching cars easily. I purchased these. I need to block out Noise; they do a great job if you can get the seal in your inner ear aligned.   |
| Bluetooth Compatibility: | Apple devices connect automatically. |
| Comfort: | With my ears, they fall out all the time. I think this is a design flaw and needs to be fixed. |
| Convenient: | These are slightly bigger than the Airpods, easily fit in your pocket, or get a case with a carabiner they can easily connect to a pocketbook or pants loop. |
Recommendation
Apple Users should go with Airpod Pro or Beast Studio; the ease of use is superior to all other headphones.

It's a difficult choice between Ear Buds and Headphones. Ear Buds give you that sense of privacy. People don't know you are listening to music or a podcast, and they fall out and get lost very easily. Headphones are bulky and look strange as you walk through the park. They do provide superior sound and connectivity to Apple devices. I find that connectivity and comfort are my two main criteria.